Customer Reviews
Filter Reviews:
parts
reactor
reactors
Avast
Avast Marine
replacement parts
spacers
part
05/15/2019
richard d.
United States
breath of fresh air
We as consumers believe that replacement parts should be available. Not just readily available, but just available. Well thats not reality. Maybe most havent had the issues like me, but ive had repeated instances of not being able to buy simple parts to keep reactors and various aquarium equipment going. If I need an O-ring or the like, which are cheap, instead forced to buy complete new pieces. IMO its ridiculous and unimaginable. You should stand by your products. Avast not only does stand behind their products, replacement parts are available and easy to buy. Couldnt ask for more. Thank you for designing and making great stuff, and allowing simple replacement parts ready to go so I can keep them going. Keep up the good work AVAST MARINE
05/01/2019
Donald S.
United States
Carbon Reactor
Great value n product. Thx.
02/20/2019
jim c.
United States
I lost it.
I lost one of the spacers that go in the reactor, being OCD I had to have the correct part and I reached out to Avast they showed me where to find the part and I ordered it. I have the DIY small reactor which I built, it was fun and easy. I am now using it in my 120 gallon tank, works great, very nice acrylic, nice and shining, I do not have any patience with small cheap reactors, too difficult to use. Thanks again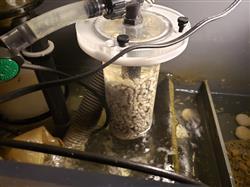 10/28/2017
Matt H.
United States
Parts
Best Customer Service in the Business... Hands Down
10/13/2017
Matt H.
United States
Customer Service
Best place in the business
---