Customer Reviews
Write a Review
Ask a Question
Filter Reviews:
FISH
feeder
anthias
tank
food
Works
pellets
motor
side
tube
10/23/2020
Mark A.
United States
Best auto-feeder money can buy
Only 4 stars due to 2 issues: 1. Doesn't attach well to my RSM 130d which has an aggressive lip 2. The dispensing of food doesn't always happen at the bottom of the feeder. Fine food seems to travel up augur up the side of the plastic somewhat
10/30/2020
Avast Marine Works
Hi Mark, Thanks for the feedback- if you can send in some pictures showing the mounting issues, we'd be happy to help you make sure it works well. We're working on similar mounting improvements for other types of tanks, one of those might suit you. Also, pics of #2 would be helpful too. Send to support@avastmarine.com. Thank you!
10/23/2020
Ryan A.
United States
Great Product!
Far and away the best auto-feeder. For my application I wanted to have it point into the return pump in the sump. Fortunately the tube is the same outer diameter as standard 2" pvc, so I krazy glued an extension on it to get it just right.
10/23/2020
Avast Marine Works
Thanks for the feedback and pics! Please keep us up to date with how this installation (particularly the XXLong tube) works out. Also, if you'd like it to be all black, just contact us and we can custom cut an appropriate length of shiny, letter free black tube :)
10/13/2020
CHARLES D.
United States
You fish will thank you
Works very well. Long ago had an Eheim feeder, and just switched from the AFS feeder. My Anthias love the dehydrated Mysis and Calanus, all my fish go into a feeding frenzy. I have it just sitting on my eurobrace. Tank has a 45 degree corner overflow. The weight of the feeder holds the plank in place.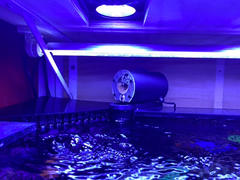 10/08/2020
Ryan C.
United States
The best auto feeder out there. Period.
Having used a few auto feeders in the past this is hands down the best one ever developed.
10/08/2020
David
United States
Best particulate feeder on the market PERIOD!
This is one awesome feeder. The amount fed is super consistent and can be adjusted to extremely small quantities The motor running the Plank is virtually silent, the mixing pump is super quiet. Foods dispense into a mixing chamber that prevents powdered/dehydrated/freeze-dried foods from being ****** into the overflow because they stuck to the surface tension You can mix a variety of smaller powdered foods and pellets. Its not good at dispensing flake foods but it wasn't designed for flake foods. The only real downfall is the long lead time. But its well worth the wait.