Customer Reviews
Write a Review
Ask a Question
Filter Reviews:
couple
hesitation
call
design change
pressure tube
pressure sensor switch
Davy Jones
package
emails
Components
12/17/2020
Emmerson B.

Canada
Pressure Sensor Tube
The overall experience from Avast Marine was awesome. I've had a Davy Jones skimmate locker for at least 6 years. About month ago the pressure sensor switch and tube stopped working, so I thought that I would replace just the two components. I was excited when my package arrived, however, was quickly disappointed when my new pressure tube didn't fit my old skimmate locker (apparently there was a design change a few years ago). After a couple of emails, my issue was resolved and I couldn't be happier. When I need some new equipment in the future, I will give Avast Marine a call without any hesitation. Thank you very much for the great customer support. Well done.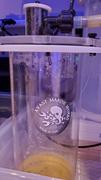 Great customer service
I needed parts for my avast deluxe ATO I bought years ago. The Avast team was very helpful and shipped the needed parts quickly
Support after an error
I bought an ATO and the pressure sensor tube was left out of the package. Any company can make a mistake the test is how they respond. Avast did a great job. After an email determining the tube was left out one was sent out immediately. The ATO works fine so far. When the water level drops the kit signals the Apex which turns on an Avast diaphragm pump in the basement and the tank tops off. Great.