Regular price
$ 174.99 USD
Regular price
$ 174.99 USD
Sale price
$ 174.99 USD
Unit price
per
Sale
Sold out
This Product has been discontinued.
Now that the Swabbie has increased skimmate production while also reducing the frequency of skimmer cleaning, wouldn't it be nice not to have to empty your smelly collection cups as often, or even better, worry about messy skimmate overflows?

We've developed a device that sinks two boats with one cannonball: isolate skimmate while purifying stinky exhaust air, as well as provide a failsafe mechanism to shut off overflowing skimmers.
Our new skimmate collector and shutoff system, 
Davy Jones' Skimmate Locker
, comes in three sizes to most efficiently fit next to your sump, where space is always premium. Rather than a traditional ping-pong ball (which only works with downdraft skimmers) or a magnetic float switch that travels on a central rod and is prone to sticking (especially in a vat full of sticky fish poo), we opted to use a pressure-sensitive switch triggered by rising fluid level. As the fluid level reaches the sensor tube, air is trapped and pressurized, causing the switch to open and cutting power to the skimmer pump(s). While the skimmate level rises, stinky air is forced out the top of the 
Locker
, through a carbon filter that scrubs the foulness from the air before it harms your senses.
Now, rather than reaching to pull off a skimmer cup that may only have a few centimeters of clearance, or dealing with a hose in a flimsy milk jug, simply disconnect the two pieces of tubing and dump. Combined with a Swabbie, and depending on your skimmer's production volume, you could safely go weeks or even months without touching the skimmer and know that it is running at peak efficiency, with the peace of mind that it will shut off when full. A pretty green LED light indicates a working outlet; i.e., when the switch is not activated.
Installation is very straightforward. Simply fill the Locker's cap with carbon, connect a tube from your skimmer cup drain to the Locker, and plug in the relay box between your skimmer pump and its outlet.  Done.
Maintenance is also quick and easy.  Rather than pulling hard and rocking the tubing side to side to remove it from the barb fitting, the fitting slips into a custom fit collar installed in the lid.  It is snug enough to prevent air leakage but loose enough to remove without wiggling.  The pressure switch has a similar attachment; the entire sensor cylinder lifts out of the lid rather than having to remove the blue tubing from the barb fitting.  Finally, the lid is held on by two short thumbscrews.  We chose to use two thumbscrews and a special thin sealing material rather than a traditional keyhole flange and 4 or 6 thumbscrews.  In testing, we've found it faster and easier to remove the two screws completely rather than loosen additional screws commonly found in the keyhole flange.  Finally, the carbon cap is held on by a plastic nut so you can safely move the lid around without fear of spilling carbon.
Digital Out version is now available for aquarium controllers.  Need a email notification or text message when it is time to empty your skimmer?  Digital is for you.  Connections are 2 wire non-polarized 18 AWG shielded wire, simply plug into your breakout box or use the float switch adapter wire that came with your controller.
Technical Data
Small
Medium
Large
Chamber
3.75"
4.5"
6"
Footprint
4.75" x 4.75"
5.5" x 5.5"
7" x 7"
Flange Diameter
5 7/8"
6 7/8"
8 7/8"
Total Height
18"
18"
18"
Drain Fitting Height
15.5"
15.5"
15.5"
Capacity
.58 gal/2200ml
.85 gal/3200ml
1.5 gal/5900ml
Power Input
110v
110v
110v
Relay Box Capacity
3 amps
3 amps
3 amps
Switch Rating
10+ mil cycles
10+ mil cycles
10+ mil cycles
Click here
for installation manual
Click here
for Skimmate Locker and related Pressure Switch troubleshooting guide
Share
View full details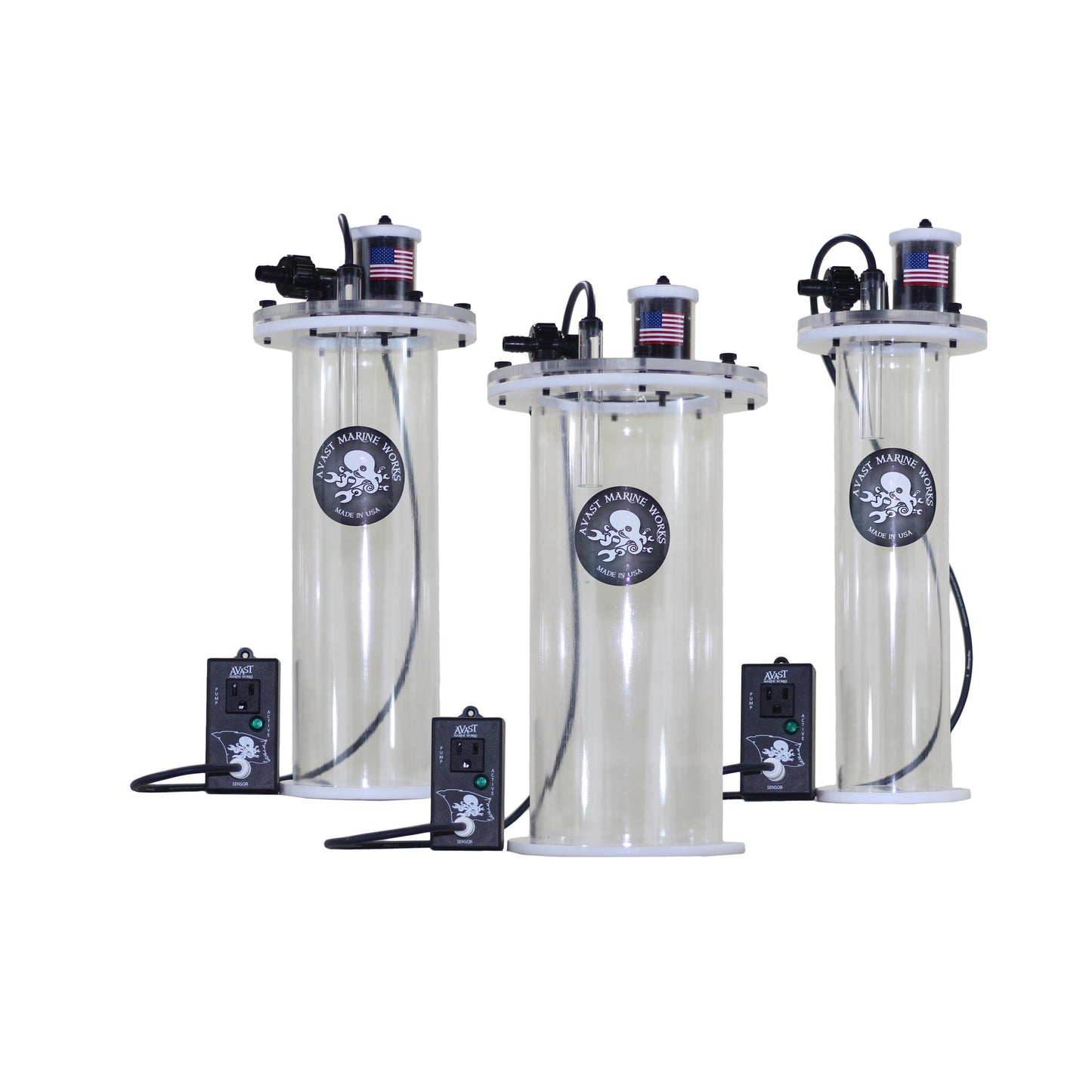 $5 Shipping

Flat Rate Shipping for all domestic orders. No minimum purchase requirements.

Hassle-Free Exchanges

Sometimes things don't work out. We make it easy to return or exchange items should you need to do so.