Customer Reviews
Write a Review
Ask a Question
Filter Reviews:
reactor
system
pump
quality
Avast
everything
chamber
Canada
kalk stirrer
rock solid
07/14/2020
Ivan B.
United States
SeaBones Calcium Reactor v2
Awesome reactor and great support to help set it up in my unusual scenario! (reactor above the sump) I am using Kamoer to push feed water into reactor.
06/21/2020
Daniel M.
Canada
Seabones in Canada
This reactor arrived here in Canada fast, and in one piece. Well built, solid, and well finished. Set up way easy, appreciate having everything you would need together - feed pump, zipties, o-ring lube... The reactor is gnarly. Perfect size for my system, holds 1 big bag of Reborn media between the main and secondary chamber. Runs silent, awesome Ph probe holder, and c'mon - it just looks cool. Going to look through and see what other things I can snag from Avast.
06/16/2020
Joe C.
United States
Shipping problems
Staff is very friendly and helpful. Received both the main chamber and second chamber broken. second chamber was destroyed. Replacement second leaked. Third was fine. Main chamber glued back together and leaked slightly before being reglued again and now works fine. Other than that unit works well.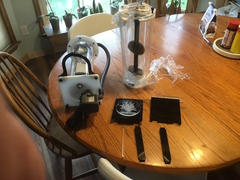 05/28/2020
Michael O.
United States
SeaBones Calcium Reactor v2
Easy set up. Running at 2 bubbles per second and getting 18 DK in effluent, which keeps up with my current coral load. I am sure I could get a lot more if I started cranking up the CO2, but not necessary right now.
05/26/2020
Andrew L.
United States
Seabones Reactor
Should have bought this along time ago, very easy to get up and running