Regular price
$ 569.99 USD
Regular price
$ 0.00 USD
Sale price
$ 569.99 USD
Unit price
per
Sale
Sold out
Balanced replenishment of calcium and alkalinity is among the most important water quality corrections required for a thriving reef aquarium.  The SeaBones calcium reactor achieves this by liberating calcium and bicarbonate ions from aragonite media, typically old coral skeletons, using CO2 gas.  This process yields equal amounts of calcium and alkalinity added to your aquarium water with no by-product ions, unlike with two-part A/B solutions, which can throw off your system's ionic balance.

Once the reactor is installed and set to meet the calcium and alkalinity demands of your aquarium, it is a very hands-off system for continuous addition of these needed elements.  Since it operates continuously, calcium and alkalinity are added at exactly the rate they are taken up, resulting in very stable water chemistry parameters.  This is essential for the health of sensitive corals like Acropora sp. (SPS, aka Stability Promotes Success).  Again, this is unlike two-part solutions, which are often added all at once, causing a spike in calcium and alkalinity levels on a daily basis.
Back by popular demand (and some of you have been asking for a long time), our new version 2 SeaBones reactor takes advantage of the efficient design we developed for our Mutiny Ozone reactor, using a low power draw Sicce syncra pump to quietly and rapidly recycle seawater through a carbon dioxide internal atmosphere.  The coral bones media effectively acts as a diffusion chamber, creating a large surface area for CO2 to dissolve into seawater and react with the media.

Keeping the system simple, we selected a very tiny and energy efficient 12v DC feed pump, and matching drip nozzle that automatically sets the flow through rate at an ideal and consistent level.  This small pump is still capable of building significant internal reactor pressure, useful for helping dissolve CO2 into seawater.

Technical Data
Footprint with connected optional secondary media chamber: 12" x 7" x 21" tall.  Without the secondary chamber, the footprint is 7" x 7".

The secondary reactor chamber can be placed remotely for more flexible footprint options.
What's Included
Comes with main reactor, recirculating pump, feed pump, drip nozzle for flow control, and CO2 check valve.  The secondary chamber pictured with the main reactor is optional.
4 feet of tubing for reactor hook up are included, all CO2 safe tubing for water connections is included.
What's needed
A CO2 cylinder and regulator with bubble counter are required for operation but must be purchased separately.  We recommend the Aquarium Plants' Carbon Doser CO2 regulator.

We recommend chunky "coral bones" style calcium reactor media, such as Two Little Fishies' Reborn media.
Share
View full details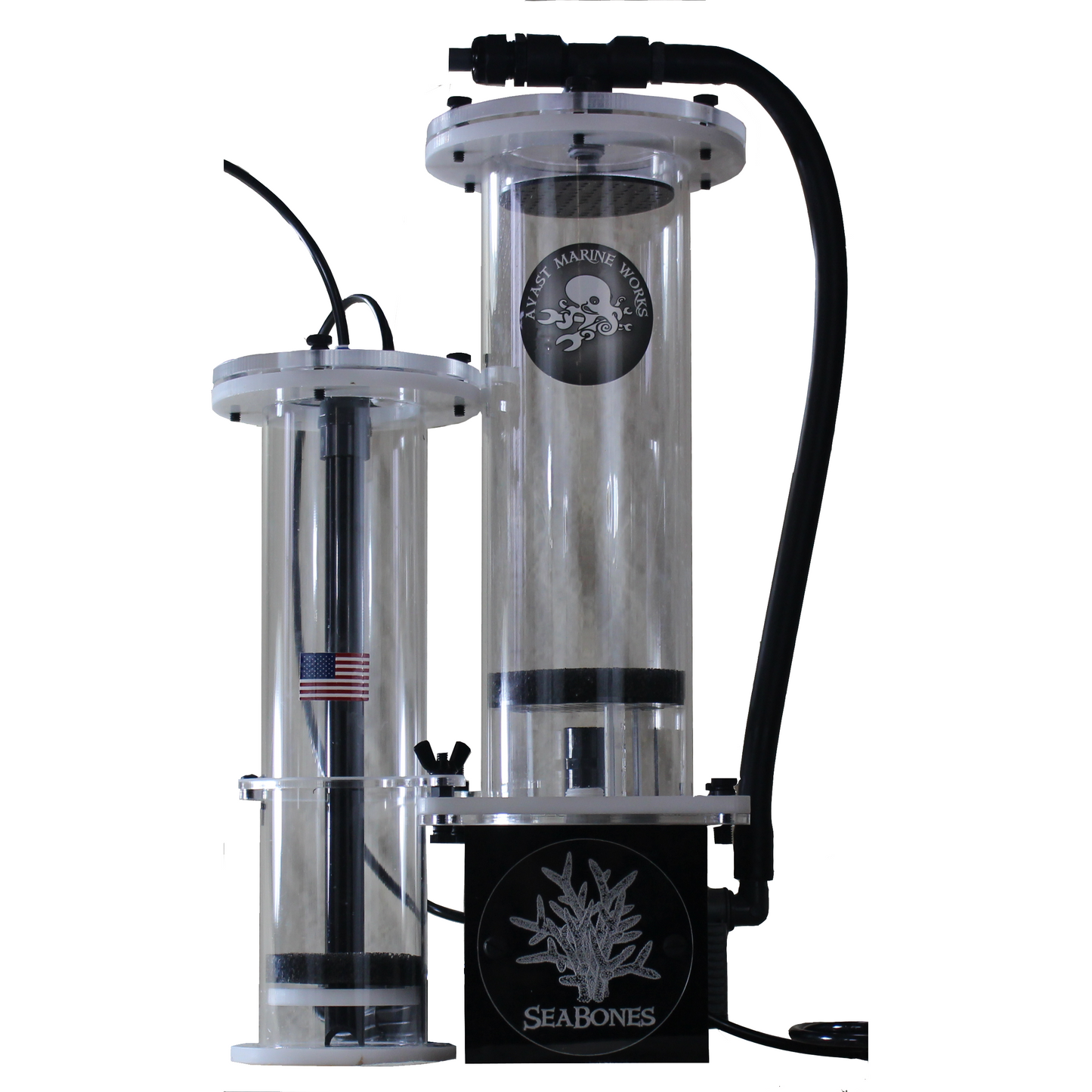 $5 Shipping

Flat Rate Shipping for all domestic orders. No minimum purchase requirements.

Hassle-Free Exchanges

Sometimes things don't work out. We make it easy to return or exchange items should you need to do so.