Customer Reviews
Write a Review
Ask a Question
Filter Reviews:
deal
Avast
nylon screws
Avast Marine
Unit
skimmer lid
Neck Cleaner
Micro blade
mechanism
Reef Octopus Essence
08/12/2020
Frank S.
United States
Swab the neck
So far so good! It definitely improves skimmer performance by keeping neck clean. Now I just have to get my locker set up and skimmer maintenance will be so much easier and less stinking up the house once a week!
08/11/2020
Steven E.
United States
Swabbie Retrofit
I honestly think it's a well designed beast of a Neck Cleaner. I sent in my lid for my Reef Octopus Essence 130 to get it with the Micro blade. After they explained how to install the wiper on the mechanism I felt incredibly dumb lol it was a simple put together but I didn't notice the obvious way to assemble it. Anyways the customer service is awesome as well I forgot to add their discount code they had at the time and they even gave me the difference back onto my card. If I even need any gadgets from them again I'm sure I'll be willing to come back to Avast. Thanks again guys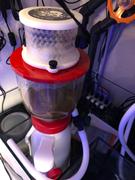 09/30/2019
Ryan C.
United States
Great service and speedy turnaround
Very happy with my Avast Marine interaction.
Swabbie Retrofit
This unit is a great product at a reasonable price. Easy to fit, good solid materials and construction, and simple step by step instructions.
Nice people
I contacted Avast before I sent in my skimmer lid. They installed the Swabbie and mailed my lid out the same day they recieved it. Total turnaround time was 7 days. I had to shave down the nylon screws holding the unit in place but it was no big deal. The unit works as advertised and I now remove and clean my skimmer cup every 2 to 3 weeks instead of 2 to 3 days.